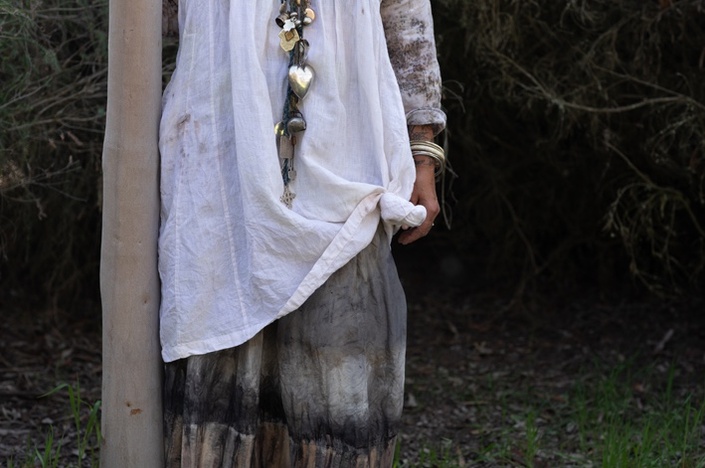 the journeywoman's second skin
India's inspirations for dyeing, embellishing and personalising your Maiwa 'journeywoman' wardrobe
Watch Promo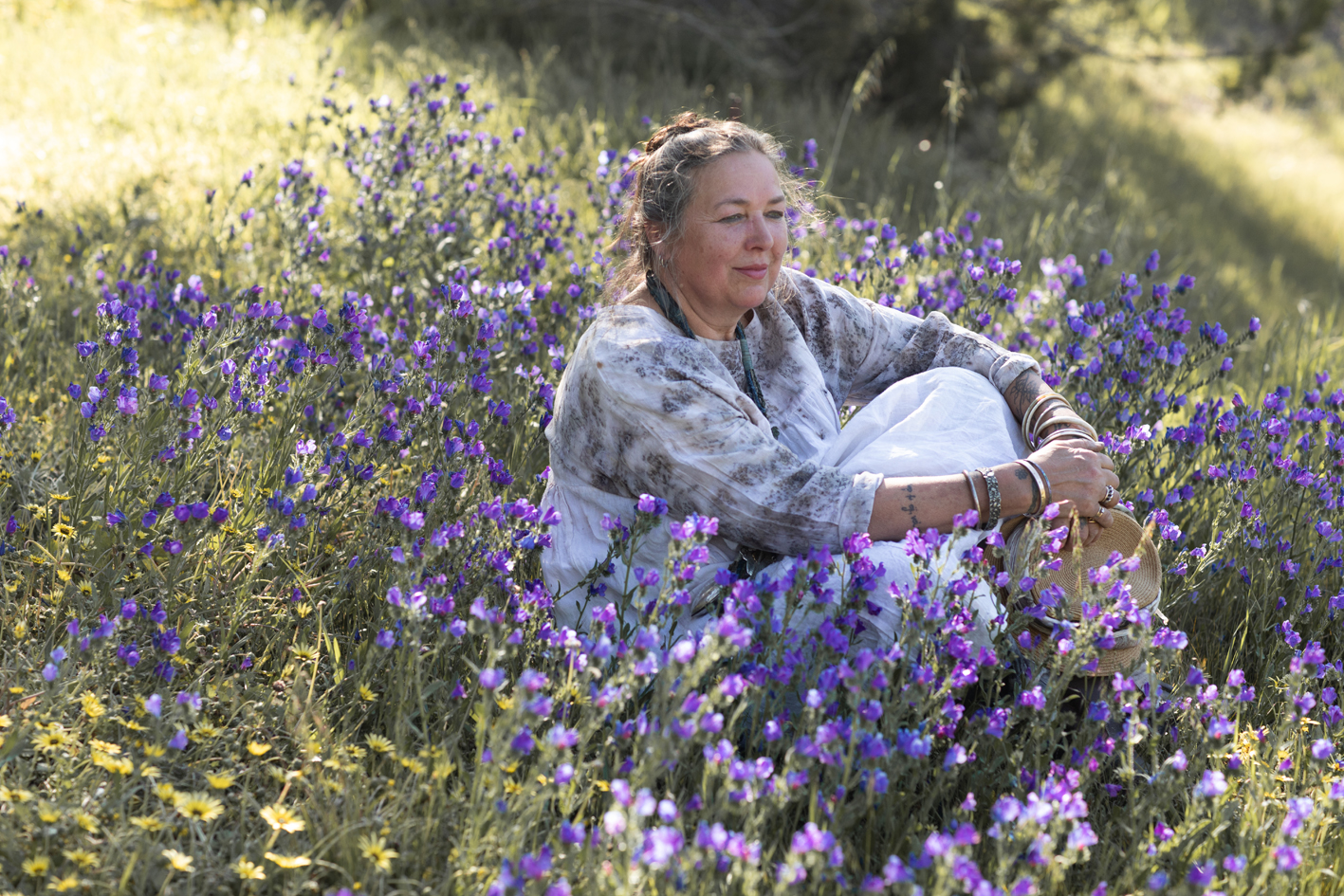 We all know the rule of dressing for far-away. "Wear something your grandmother would approve of."
It is a surprisingly good rule — regardless of whether you are going to the continent, the sub continent, the old world or the new one.
In the years since I first encountered dye legend (and now my good friend) Charllotte Kwon at the UNESCO natural dye conference in Hyderabad, India, we have discovered a multitude of shared passions. Besides an ongoing interest in good food, paeonies and natural dyes, we both choose to wear timeless and comfortable natural fibre clothing that can traverse cultures.
You'll find us in beautiful loose coats over dresses over soft skirts, our feet encased in sturdy boots, comfy flats or sandals, and a shawl of some kind draped around our shoulders along with our favourite tinkling trinkets. Our clothes blend into landscapes wherever we go, in looks that can take us from Malta to Mysore, Edinburgh to Essaouira, New Orleans to Novgorod.
In 2019 we put our heads together and began to dream of a garment that would be the focus of a masterclass in dyeing and embellishment at Maiwa in the spring of 2020. I travelled to India early in the new year to work on it together with Charllotte at the Maiwa studio there. We found so much joy in creating it, that a small collection was born.
We all know what happened to the workshop plans for 2020. The virus wiped away our hopes and dreams of shared stitching time, gathering around the dyepots and dancing our freshly dyed delights around the studio.
So instead I have put together an online class that takes a journey through the pieces, and guides you in ways of making them uniquely yours. We may only be travelling in our hearts at present, but dressing our bodies is still an important daily ritual. Beyond the purely practical, our clothing can be a kindness to self, a celebration of life and the gentle expression of personality.
The journeywoman's vetements are always comfortable, whether she dreams of travel, sails her armchair or poetically paces the perimeter of her garden. The cloth from which they are cut carries memories of the makers and adds to its story as the garments are worn. The blue-flowered fields of linen, the gentle murmur of silkworms, the thump and swoosh of the loom are intrinsic to these timeless clothes that can take the wearer from city square to village well, quiet forest glades to the drifting desert sands, sacred places to the desecrated.
These are clothes for all occasions, that rest kindly agains the skin, wash easily, wear well. There are seven basic elements, with some available in several fabrics.
They are delivered undyed, a fresh canvas awaiting the stitches and colours that move your heart. So beautiful you can wear them as they are while you get to know them, then embellish the evidence of life with stitch and dye. Add extra pockets if you need, extend the length, sew bells and beads along their edges. These simple timeless clothes will serve you well from here to there, wherever you go and wherever you are.
In the online workshop we will be printing with leaves, writing and stitching text and perhaps adding a talismanic mark of protection. I will share my philosophies of botanical alchemy and demonstrate ways of folding the garments for bundling. We will add secret pockets, embellish edges and explore the countless ways in which these beautiful clothes can be worn together.
I have been mostly making my own clothes for years, usually by combining pre-loved finds from thrift stores with lovely cloth that has come my way, but I know that sewing and shaping garments is not for everybody. Charllotte has been working with skilled weavers, cutters, sewers and dyers in India for over thirty years. On my journey with her this year I began to understand more deeply just how important this work has been. That to weave a piece of cloth involves not just the weaver, but the village. The fibre is cultivated, harvested, cleaned and spun. One person winds the warp, another sets up the loom. Shuttles are loaded while children play underfoot. When the weaver's work is done, the cloth is washed and then taken to the dye house. In the cutting room, scissors in the hand of a master shape the garment. Six men sit sewing, machines humming quietly while music plays. A group of women gathered around a big table in the next room natter happily while hand finishing each piece. The studio is light and airy and looks into trees. It's a lovely place to work.
These timeless designs are the work of many hands and are the fruits of the sustainable practices that Charllotte has established all over India.
They will suit you whether you're an Earth Goddess or Wood Sprite and will become not just your travel essential but every day favourites. Lovingly produced in a range of fabrics including stalwart linen and luxurious handwoven silk, they are waiting to be embellished with leaf prints, stitch, appliqué and dye; and while you can of course apply the techniques I share to your existing wardrobe, investing in this online workshop awards you a 10% discount on all of the pieces.

your guide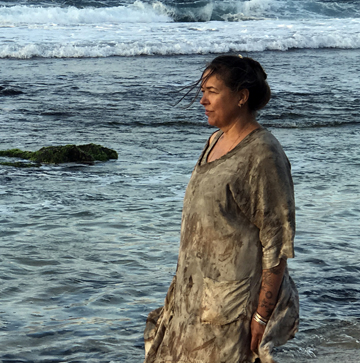 artist, writer and wanderer
Frequently Asked Questions
When does the course start and finish?
The course starts now and never ends. It is a completely self-paced online course - you decide when you start and when you finish.
How long do I have access to the course?
After enrolling, you have lifetime access to this course for as long as you like - across any and all devices you own.
While this course was designed around the Maiwa Journeywoman line, the techniques shared in it can be applied to refresh most undyed natural fibre garments already in your wardrobe, using plants from your garden, windfalls from the street or green trash from the florist.
What are you waiting for? It's time to play...