February, the second and shortest month of the year (called Februarius by the Romans) was named for Februum, a purification rite that traditionally took place in the middle of the month. This makes slightly more sense when we consider that, before the Julian reformation of the calendar, Februarius was the last month of the year. It was a time to clean up your act and prepare for a fresh start.
In the north, it's when winter is dragging her heels through the mud and we are anxiously on the look out for the first tiny signs of spring.
Downunder, we're just trying to protect seedlings from being seared.
Many of us know the burden of Seasonal Affective Disorder, an often debilitating condition brought on in the northern reaches of the Northern Hemisphere by the limited hours of daylight at the bleak end of winter. In the south, though we are blessed with the luxury of long, light-filled days, we sometimes feel the exhausting heat of summer may never end.
And ALL of us are so weary from the dark cloud of COVID-19.
While I originally began creating February projects for my friends in the cold dark north, anyone is welcome to enrol. I don't have all the answers, but I do know that having something delightful to look forward to helps. (Along with a lovely cup of tea.)
This year we will be exploring folded book structures, and adding pages for drawing and writing as well as lovely leaf-printed pages just to uplift the soul. We will begin with a simple four winds book, move on to a double version (the Island Book) and then swing into my absolute favourite, the Seven Sisters Book...a version that becomes a never-ending story as you keep turning the pages. As usual I'll be sharing a few treats along the way, favourite recipes for dishes and brews that elevate the spirit, and as a bonus, I'll show you my River Book, a magical means of turning one big sheet of paper into a pocket-sized sketchbook. (It's a structure that came to me during a residency on the banks of the River Tay in Scotland, hence the name.)
We'll make a few different covers...some printed, some painted, some collaged...and then I'm going to be watching with great excitement as you begin to combine some of these techniques in your own styles as you explore the options.
In the past February projects, I have "dripped" content one day at a time. This year, when everything seems so much more tenuous, I'm going to open most of it up on February 1. That means there won't necessarily be a daily email (though you'll hear from me out of the blue)...but I will be around to chat with you in the comments that are attached to the foot of each section.
During the month I'll be creating a gallery section, to upload short videos of your books. Details on how to send them to me will be explained in the course. It will be lovely to watch you all turning your beautiful pages.

And then (around February 21), when you've had time to practice a bit and have developed confidence in the folds, I'll open the last section...one in which I use the foundations (that we've laid together) to guide you through the making of an exquisite (and comfortingly tactile) textile book. This can be made either from your ecoprint samples (if you're tired of sewing quilts from them) or you can build it from a collection of random undyed scraps, and then bundle it for a glorious dye-up at the end of the month. It will be a treasure that you will want to keep close. I think the format is very likely to become the bones of my future travel souvenirs...it's a book form I was planning to begin teaching on my travels this year, but given I presently have no wings, I have decided to share it with YOU.
There's no special equipment required, just the usual needles and scissors and threads most folks (especially you lovelies who hang out with me here) already have at home. Don't worry about ordering expensive papers either, we'll start by working with brown paper shopping bags, old envelopes and printed books that have done their dash.
Will you join me for another armchair voyage around the village well?

It's going to be lighthearted and filled with joy.
your guide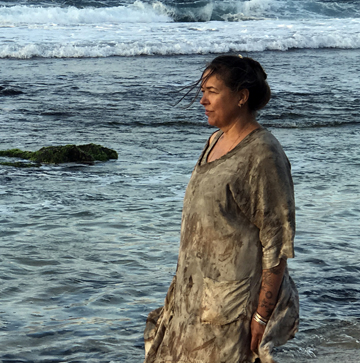 artist, writer and wanderer
Course Curriculum
welcome
Available in days
days after you enroll
the four winds book
Available in days
days after you enroll
a dance of cloth and paper
Available in days
days after you enroll
Frequently Asked Questions
When does the course start and finish?
The course starts on February 1, 2021, and while it is designed to be accomplished in a month, it remains available for life.
How long do I have access to the course?
How does lifetime access sound? After enrolling, you have unlimited access to this course for as long as you like - across any and all devices you own.
This course is not presently open for enrollment.