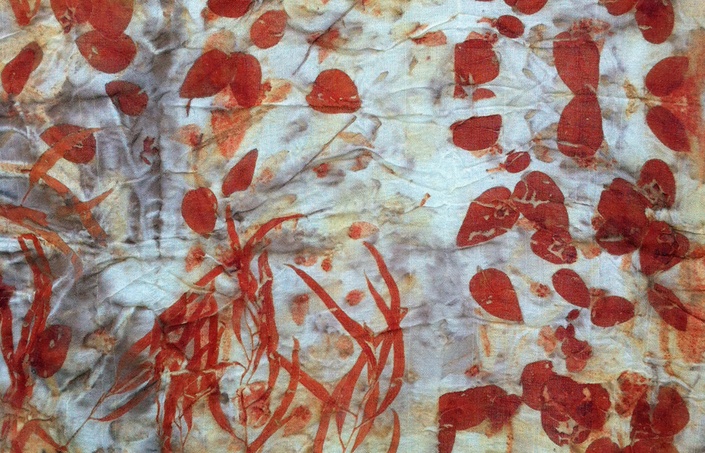 eucalyptographia
the secrets of dyeing with eucalyptus
If you've ever longed to make luminous prints on cloth from eucalyptus leaves,
this is the class you have been waiting for.
The essentials of eucalyptus dyeing, from the woman who gave the eucalyptus ecoprint to the world.
Named after the first book ever to have been written about the genus, this course explains the secrets of eucalyptus dyes (that amazing magic that makes green leaves print sunset colours) and how to coax the most colour from your leaves. We'll compare steamed and boiled eucalyptus ecoprints and look at ways of influencing the colour using the presence of metals; as objects to wrap around, pots to boil in, and as substances to infuse in assorted liquids to obtain magical potions.
Eucalyptographia presents the critical things you need to know about printing and dyeing with eucalyptus, based on a lifetime of research by the discoverer of the eucalyptus ecoprint and author of 'Eco Colour' and 'Second Skin'. (That's me, India Flint.)
We will look at making dyes with eucalyptus, how dye colour is influenced by environment, season, water quality, leaf age and species; and how to get the best and brightest hues from these marvellous trees. There will be exploration of the mordant effects of the actual dyepot as well as insight into simple mordants that can be made at home.
Learn how to store leaves for future use, and how to make ink from the bark of these beautiful trees.
I'll share my guidelines for sustainable practice, take you through the preparation of fabric (both new and pre-loved, cellulose and protein fibres) and show you how to make the rich colours of the Australian landscape on yarn, as well as exquisite prints on cloth with eucalyptus leaves.
It's such a magical process that you could spend the rest of your life simply working with one tree and never become tired of it.
Step into the eucalyptus forest with me, let its perfume drift over you and its rich earthy colours infuse your life with beauty.
"In 2008, with the publication of her first book, Eco Colour: Botanical Dyes for Beautiful Textiles, India Flint brought a radical new perspective to an ancient practice. She rethought the entire dye process. Her book forcefully and eloquently champions ecologically sustainable plant-based printing processes to give colour to cloth. When it first arrived on the scene, Eco Colour was both an eye-opener and a game-changer."
Maiwa School of Textiles
your guide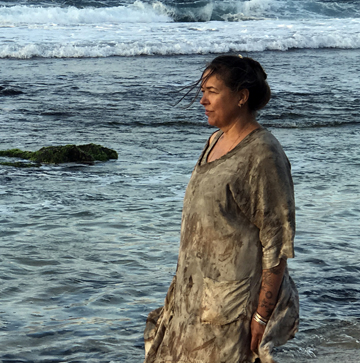 artist, writer and wanderer
Frequently Asked Questions
When does the course start ?
The course was first published on September 1, 2020. It is a completely self-paced online course.
How long do I have access to the course?
After enrolling, you have unlimited access to this course for as long as you like - across any and all devices you own.
Will I need any specialised equipment ?
You will need a non-reactive (stainless steel / enamel / pyrex) pot that you can dedicate to dyeing (and will not be using to prepare food in), but other than that no special equipment is needed.
Given the uncertainties created by the COVID-19 virus, I wanted to ensure that the lifetime of research that I have invested in the understanding of eucalyptus dyes was recorded in some way. In the years since 'Eco Colour' and 'Second Skin' were published I have learned so much more about the magic of the eucalyptus, and while I would love to put this into a book, that simply isn't possible right now.
I am teaching fewer teaching in-person workshops these days , and wandering the planet less than I used to.
While this is a very good thing for the environment, it's not so good for those of you who were planning to attend a workshop sometime.
On the bright side, the investment in this online masterclass is considerably less than the investment in a 5 day workshop, and that's even before the cost of travel and accommodation is taken into account...and unlike an in-person workshop, you retain access to the course for life, so you can return to it time and again. It contains over 10 hours of video as well as my entire Masters thesis "Arcadian Alchemy :: Ecologically Sustainable dyes for Textiles from the Eucalypt Forest", distributed in bite-size lumps over the six sections of the course.
I am hoping you may like to participate in a eucalyptus mapping project where your samples can be collated and sorted, country by country with information about where you sourced the plant matter and how it was processed (ambitious, I know, but what a great resource for you all to be able to share in). It will be given a special section here in the course.
By choosing to participate in this course, you will also be actively helping ecological rehabilitation in South Australia, the driest state on the driest continent, as for each enrolment I will be planting a eucalyptus tree on the land of which I am the present custodian.