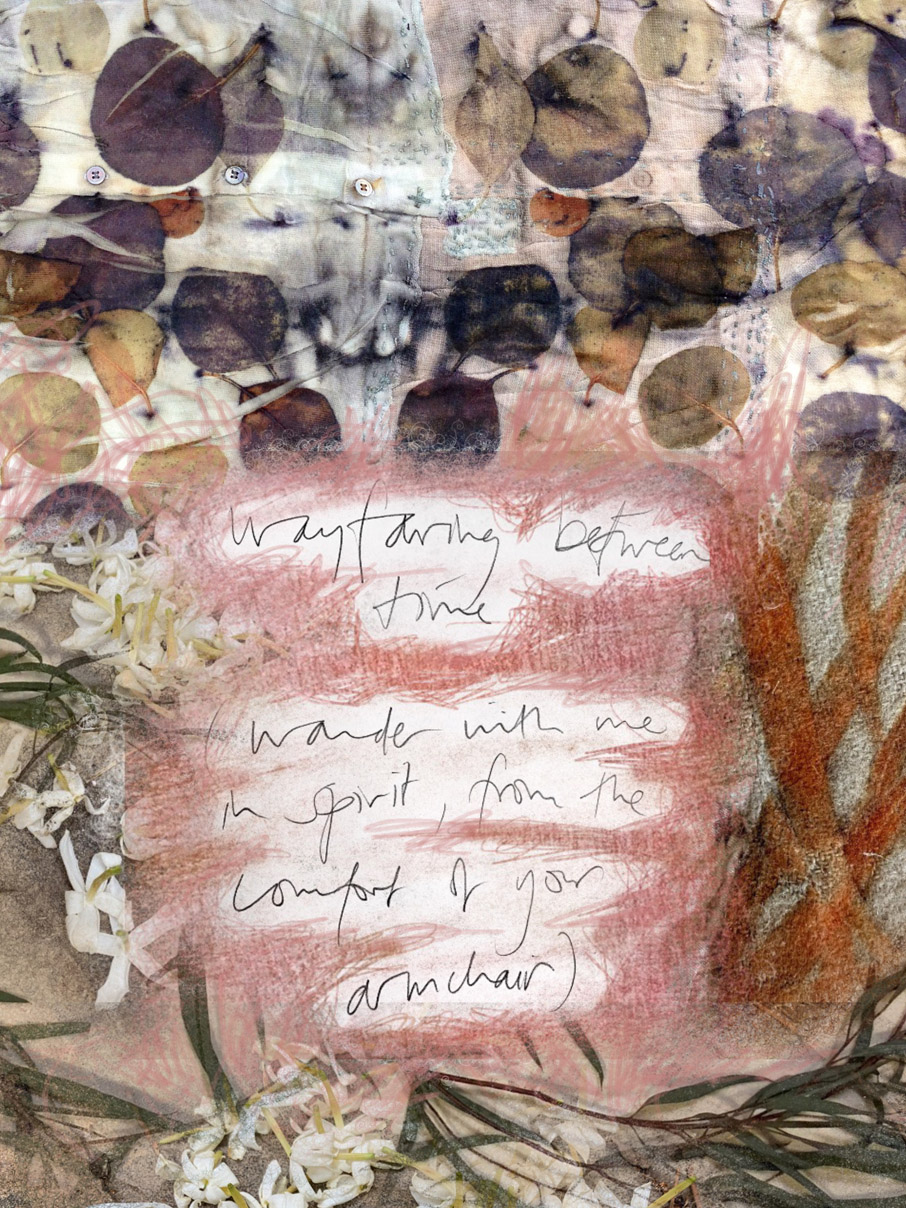 Join me on a nine-month journey, wayfaring between time.
It's been over seven years since I first dreamed up the workshop I call 'being(t)here', in which for a scant five days we explore the poetics of place, dye, draw and stitch ... and with those passing years it has become very clear to me that what this course really needs is MORE time.
My inner writer wants me to publish this as a book, but the storyteller in my heart loves the magic of the moving image, so bringing the writing and the film-making together to share the year's wanderings with you makes perfect sense.
So many of you have wished you could hide in my luggage or record a class to revisit later ... I invite you to join me by being a virtual stowaway. Listen to and watch the classes as many times as you like. Repeat the projects with different materials or in different places, anyplace you have internet access and can find a space to work.
Come with me on my travels.
On each new moon from March to December ( this year there are eleven ) I will share a visual story of a wandering, guide you in ways and means of responding to the poetics of place and offer something practical and beautiful that you can make.
We will make marks on paper and cloth, create notebooks and things to enfold them; find poetry in industrial wastelands as well as the beautiful wild. There'll be stitching and drawing, painting and dyeing. We will make string (I know many of you have already learned this, but I have some refined techniques to share) consider talismans, make bags and mix our individual solid perfume.
We will consider the importance of healing plants, and ways they can be introduced to our work.
There's so much we can cover. I'll be travelling to Morocco, to France and Scotland. Spending time in my beloved New Orleans.
Mexico has been pencilled into the calendar and I have a residency in Ireland. I'm also excited about showing you some of my favourite places closer to home, too.
Wander with me in spirit from the comfort of your armchair.

You won't need to buy an airticket, apply for a visa or risk losing your best pocketknife to the security scanners while standing in the airport in your socked feet hoping that your shoes will emerge from the Xray tunnel.
You won't even have to change out of your jimjams*.
Are you in?
I hope so.
* jimjams = pyjamas